Bay Photo offers exquisitely finished Framed Prints, delivered ready to display with hanging hardware attached!
Choose from a variety of high quality wood or metal frames in a range of colors and moulding profiles. Frames can be added to Photographic Prints, Fine Art Prints, MetalPrints, Epic Prints, and Canvas Prints.
Each moulding profile is carefully inspected to meet the gallery quality you expect from Bay Photo. Our genuine natural solid wood mouldings have a naturally rich finish and grain that can vary slightly from frame to frame. We take great care to ensure your frame is free of flaws and meets your high standards. This individual attention makes our frames all the more dramatic and rich, each a beautiful hand-made product you'll be proud to present and hang.
Frame Sample Sets
Help your clients choose their ideal Frame and Mat with our Sample Sets! These sample sets are comprised of full-size corner pieces. Order the complete selection of Frame Mouldings and Mat Corners, or only the sets for the series that you prefer.
Order a Sample Set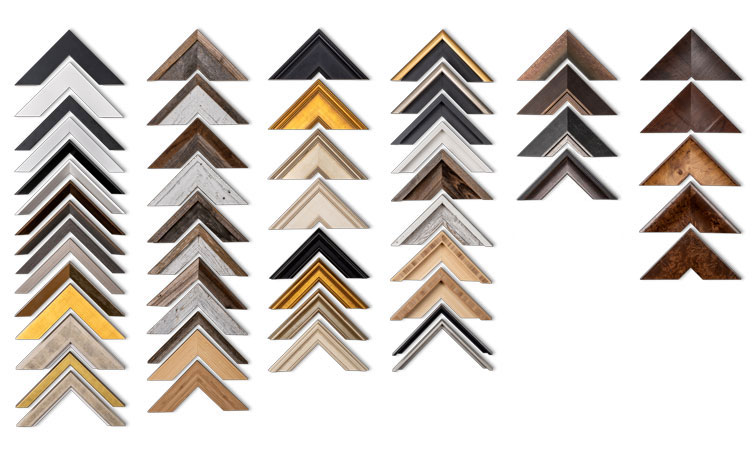 Complete Collection of Corner & Mat Samples
Includes ALL Corner Samples from our Classic Wood, Barnwood & Bamboo, Gallery Series, Exotic Gallery Series, Modern, Ornate, Americana, Metal, Float Frame, and Mat Sample Sets.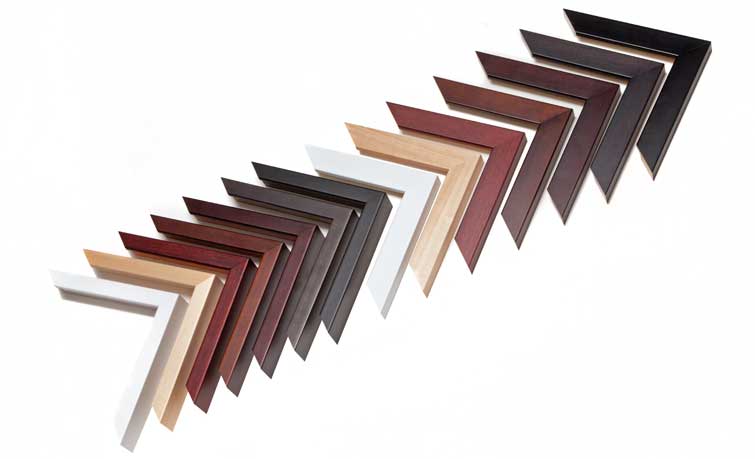 Classic Wood Collection
14 Mouldings: Box and Flat Profiles in White, Natural Basswood, Cherry, Walnut, Mocha, Charcoal, and Black Finishes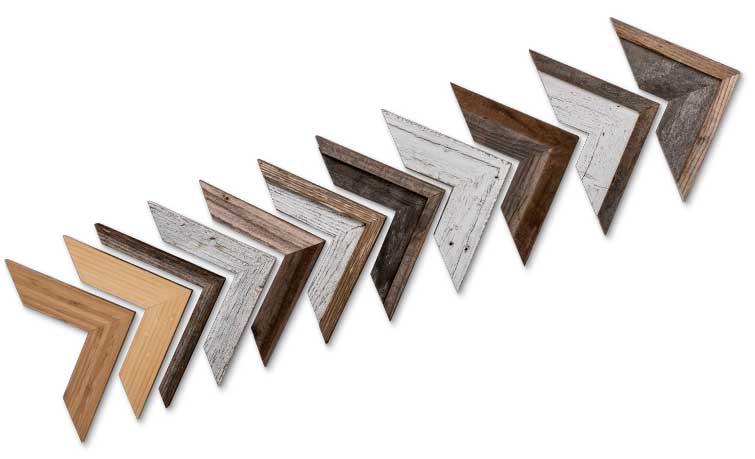 Barnwood & Bamboo Collection
11 Mouldings: 1½ Bamboo in Carbonized and Natural; 1½ Barnwood in Natural or Whitewashed with optional Cap; 2¼ Barnwood in Natural or Whitewashed with optional Cap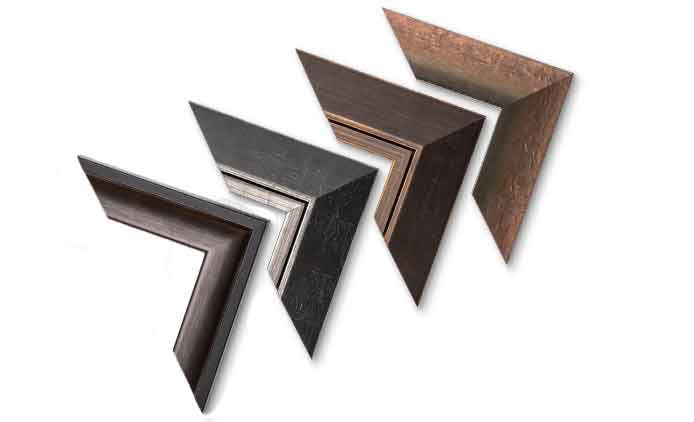 Gallery Series Collection
4 Mouldings: Silver and Black Scoop, Charcoal Reverse, Bronze Reverse, and Bronze Curve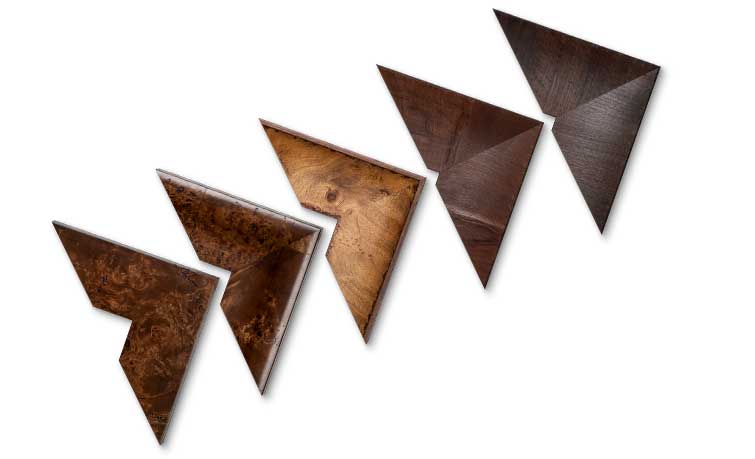 Exotic Gallery Series Collection
5 Mouldings: Burl - Flat, Burl - Swoop, Light Burl, Light Cross-Grain, and Dark Cross-Grain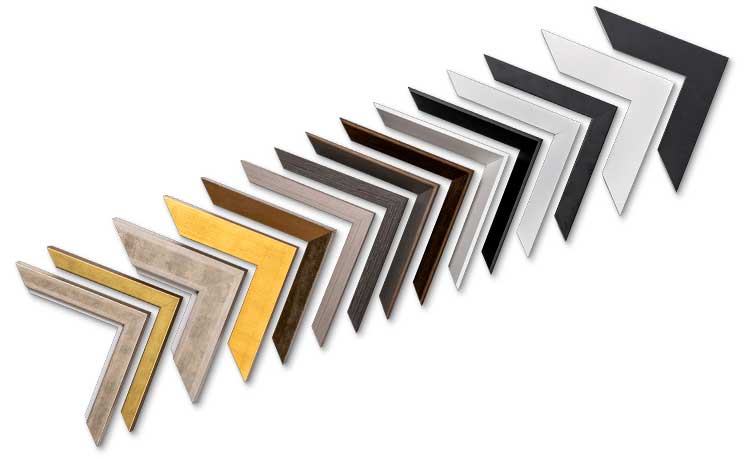 Modern Collection
15 Mouldings: Champagne Block, Gold Block, Champagne Flat, Grain and Gold; Natural Fog and Natural Dusk Box; MidCentury in Oak, Walnut, White, and Black; White and Black Block and Tall Block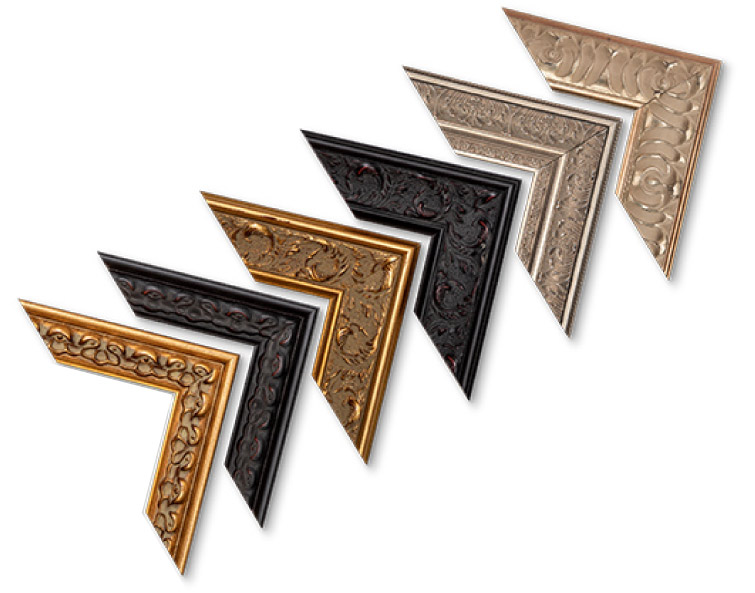 Ornate Collection
7 Mouldings: Small French in Silver, Gold, and Black, Large French in Gold and Black, Old World Silver and Venetian Silver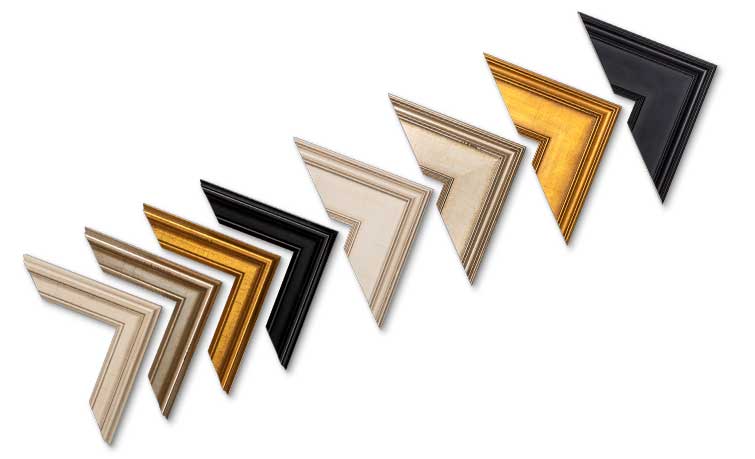 Americana Collection
8 Mouldings: Elegance and Statement Profiles in Gold, Silver, Black, and Ivory with a Lightly Distressed Texture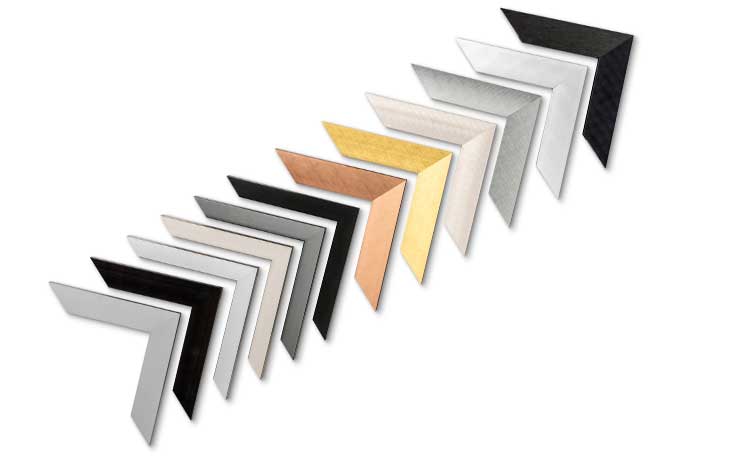 Metal Collection
12 Mouldings: Wide Profile in Silver, Gold, Copper, Light Pewter, and Black; Flat Profile in Black and Silver; Box Profile in Black, Silver, Light Pewter, and Dark Pewter
Float Collection
14 Mouldings: Modern Float in Light Pewter Metal, Black Metal, Carbonized Bamboo, Natural Bamboo, Whitewashed Barnwood, Natural Barnwood, White, Black, Silver, and Gold; Wedge Float in White, Black, Pewter, and Gold
Ordering
All of our ordering tools feature free templates and drag-and-drop ease for Windows and Mac users.

Online Ordering
Quick & easy ordering from your web browser

Desktop Ordering
Full of powerful features + quick volume ordering for Power Users