Specials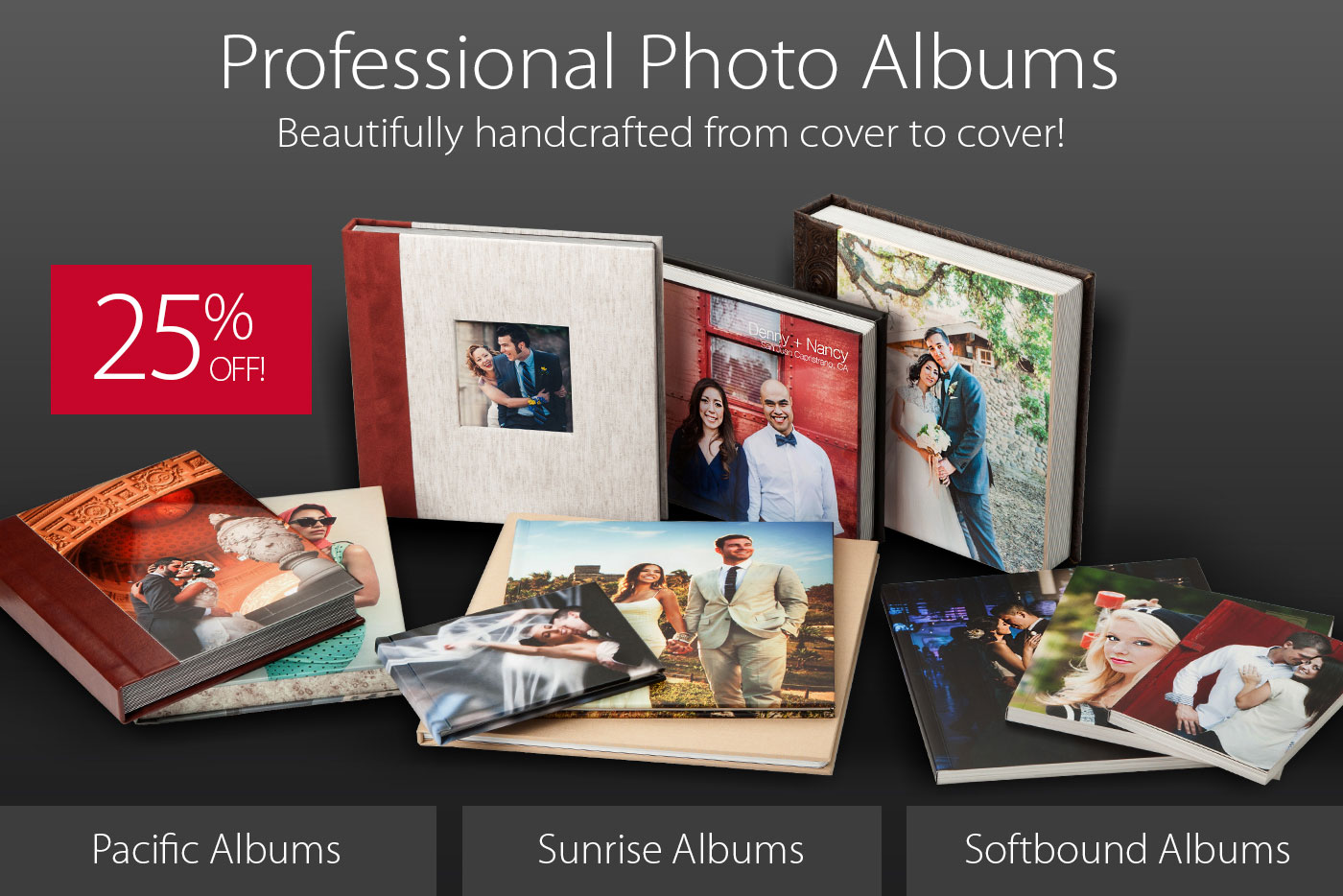 25% Off Pacific, Sunrise, & Softbound Albums!
We offer a wide selection of handcrafted Professional Albums for your weddings, portraits, and events. All of our Albums are highly customizable with a range of options to please every client.
Choose flush-mount Pacific Albums for premium options such as Full Wrap, Metal, Wood, or Acrylic Photo Covers, different Page Thicknesses, Gilding, and much more. Sunrise Albums feature panoramic spreads printed on professional photographic papers mounted back-to-back for a slim profile. Softbound Albums offer beautiful print quality in an economical package, perfect for Companion Books, Seniors, Portfolios – you name it. With such an excellent variety of options, the creative possibilities are endless!
To redeem this offer, enter promo code 25ALB in the cart area when ordering in Bay ROES or Bay Designer. Valid 6/13/17 - 6/29/17. To get Pacific or Sunrise Albums for Studio Samples for 50% off, follow the instructions here. Only 1 promo code may be used per order; Studio Samples discounts are not cumulative, and may not be combined with any other offer. Normal shipping and handling charges apply. Discount will be reflected on final invoice.
---
25% Off Your First Order!
For a limited time only, save 25% off your first order through Bay Web Ordering or Bay ROES. For instructions on how to redeem this offer, fill out our New Customer Account Request form.
This offer is not valid for Kingston Album purchases. May not be combined with any other offer.
---
24 Hour Sales on Facebook & Twitter
Do you LIKE us? Do you FOLLOW us? We recommend it, because now we will announce a special 24 hour sale every week exclusive to our fans on Twitter and Facebook! So far we've featured amazing deals like 1/2 off MetalPrint Sample Packs and 50% Off 8x10 prints. Don't miss the next one…
---
Sign up for our email newsletter!
Sign up for Bay Photo Lab's email newsletter, and get info about Bay Photo's offers, events, and new products delivered directly to your inbox.