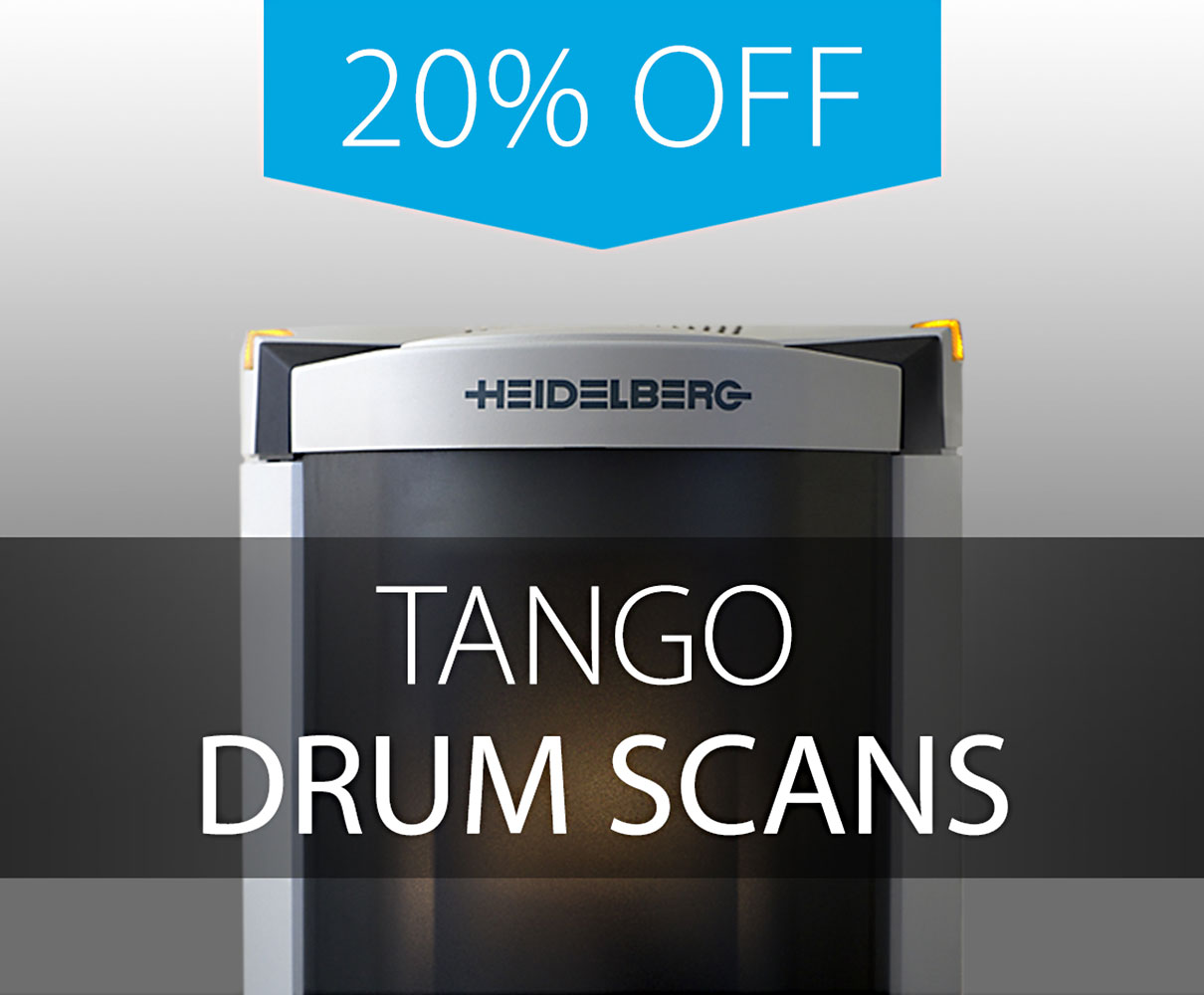 20% Off
Tango Drum Scans!
Our NEW Tango Drum Scans come from a fusion of 20 years of experience by our Master Scanning Technicians, and our legendary Heidelberg Tango Drum Scanner, which can scan film beyond grain level. Each scan is given undivided attention in order to achieve accurate color and excellent D-max, upholding all the information you need to make a gorgeous print. Scan services are provided by our sister company, Metal & Paper Pro. Read our Drum Scanning Fact Sheet for the full specs, and visit this page for instructions on how to order. Start preserving your film captures today.
Valid 7/9/2020 - 7/16/2020 for unlimited quantities.
Use promo code

TANGO20

| Expires

7/16/2020
25% Off
Photographic Prints!
Photographic Prints and Fine Art Prints offer a wide array of 28 papers so you can select the best creative choice and style for your images. Photographic Prints are made with care on your choice of Lustre, Matte, Glossy, Metallic, Silk, Fuji Deep Matte Velvet, Fuji Pearl, Fujiflex and Fuji MAXIMA Glossy or Matte. Fine Art Prints are available on 18 papers from leading manufactures including Canson, Epson, Hahnemuhle, Moab and Breathing Color, with a variety of white points, textures, and finishes.
Valid 6/23/2020 - 7/9/2020 for unlimited quantities. Gatorfoam, Styrene, Bevel, and Standout Mounts will also be discounted when ordered with a qualifying Photographic or Fine Art Print. May not be combined with any other offer. Normal shipping and handling charges apply. Discount will be reflected on final invoice.
Use promo code

25PRINT

| Expires

7/9/2020
25% OFF YOUR FIRST ORDER!
Welcome to Bay Photo! We have worked tirelessly for over 44 years to provide photographers with the highest quality professional photo products available. We encourage you to browse all of they ways you can give your images and artwork a truly remarkable presentation. When you're ready to order, sign up for your free Bay Photo Account and check your email for the promo code to save 25% off!
Get More Bay Photo Goodness!
Join our creative and unique community to keep informed with up-to-the-minute news, offers, and inspiration from Bay Photo and the amazing industry we belong to.
Follow Us
For news, inspiration, and offers! We also welcome you to share your ideas, images, and finished masterpieces.
Join Our Email List
For offers, photo education, events, and new product announcements delivered right to your inbox.
Sign Up for News & Offers