Garbage in, garbage out. How can you make a great print with a mediocre scan of your film?
Great scans come from a fusion of experience and hardware. Our Scanning Technicians have mastered the process of scanning film with our Tango Drum Scanners over the last 20 years. Our film scans have been the foundation for dozens of fine art books, thousands of Exhibition Prints made by our Master Printmakers, and used by thousands of artists preparing their own files.
Our hardware is the legendary Heidelberg Tango Drum Scanner, which can scan film beyond grain level
Each film scan is captured in a 48 bit Silverfast HDR file that is then processed by our Scan Techs to make a final, high res, 16bit TIFF file.
Every film scan is individually adjusted because no two pieces of film are the same
Color, B&W, Neg, Chrome, pyro, 35mm, 120, 4x5, 8x10, 11x14, 6x17, and prints, if it can fit on our drum, we've probably scanned it
Read our Film Scanning Fact Sheet for complete technical details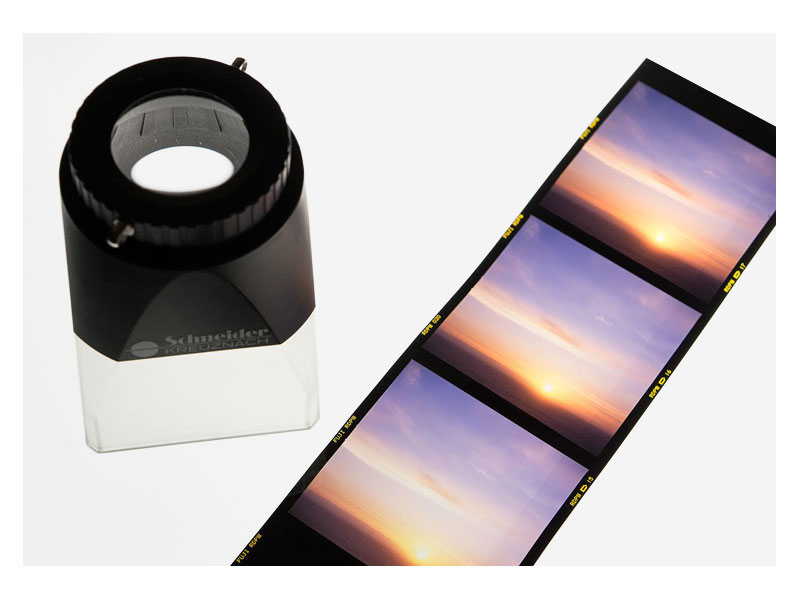 Ordering Drum Scans
Drum Scans are fulfilled through our location in Oakhurst, California. To order, fill out the order form below and include it with your film.
Step 1: Fill out the Drum Scan Order Form below: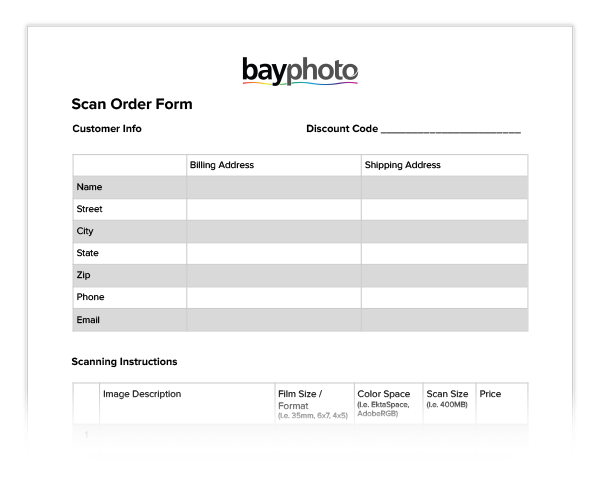 Step 2: Send the Order Form with your film to:

40120 HWY 49
Suite C
Oakhurst, CA 93644
Turnaround time for Tango Drum Scans is approximately 5 business days from the date the film is received.
16 bit Scan Pricing
For size recommendations and other technical details, read our Film Scanning Fact Sheet. Please contact us with any further pricing or file size questions.
Film Format
Scanned File Size
RGB 16bit
Scan Resolution (dpi)
Approx. Print Size @ 300ppi
Without Interpolation
Approx. Megapixels
Approx. Pixel Dimensions
@ Original Scan Size
Price Per Scan
35mm
1 Scan
2-10
11-20
21+
35mm
S
100MB
3600
11"x17"
17.4 MP
5102 x 3402
$34.95
$31.46
$29.71
$27.96
35mm
M
200MB
5250
16"x24"
36.9 MP
7441 x 4961
$49.95
$44.96
$42.46
$39.96
35mm
L
400MB
7250
24"x36"
70.4 MP
10276 x 6850
$64.95
$58.46
$55.21
$51.96
120
1 Scan
2-10
11-20
21+
645
S
200MB
2900
17"x22"
35.2 MP
6850 x 5138
$49.95
$44.96
$42.46
$39.96
645
M
400MB
4200
24"x32"
73.8 MP
9921 x 7441
$64.95
$58.46
$55.21
$51.96
645
L
600MB
5250
30"x40"
115.4 MP
12402 x 9301
$79.95
$71.96
$67.96
$63.96
6x6
S
400MB
3600
28"x28"
72.3 MP
8504 x 8504
$64.95
$58.46
$55.21
$51.96
6x6
M
600MB
4400
36"x36"
108 MP
10394 x 10394
$79.95
$71.96
$67.96
$63.96
6x6
L
800MB
5250
40"x40"
153.8 MP
12402 x 12402
$99.95
$89.96
$84.96
$79.96
6x7
S
400MB
3400
26"x30"
75.3 MP
9370 x 8031
$64.95
$58.46
$55.21
$51.96
6x7
M
600MB
4100
32.5"x38"
109.4 MP
11299 x 9685
$79.95
$71.96
$67.96
$63.96
6x7
L
1GB
5250
41"x48"
179.4 MP
14469 x 12402
$119.95
$107.96
$101.96
$95.96
6x17
S
400MB
2100
16"x46"
69.7 MP
14055 x 4961
$64.95
$58.46
$55.21
$51.96
6x17
M
600MB
2600
20"x58"
106.9 MP
17402 x 6142
$79.95
$71.96
$67.96
$63.96
6x17
L
1GB
3500
28"x78"
193.7 MP
23425 x 8268
$119.95
$107.96
$101.96
$95.96
Large Format
1 Scan
2-10
11-20
21+
4x5
S
400MB
2050
28"x35"
84.1 MP
10250 x 8200
$64.95
$58.46
$55.21
$51.96
4x5
M
600MB
2450
32"x40"
120.1 MP
12250 x 9800
$79.95
$71.96
$67.96
$63.96
4x5
L
1GB
3100
48"x60"
192.2 MP
15500 x 12400
$119.95
$107.96
$101.96
$95.96
8x10
S
600MB
1200
32"x40"
115.2 MP
12000 x 9600
$79.95
$71.96
$67.96
$63.96
8x10
M
1GB
1650
44"x55"
217.8 MP
16500 x 13200
$119.95
$107.96
$101.96
$95.96
8x10
L
1.8GB
2000
53"x66"
320 MP
20000 x 16000
$225.00
$202.50
$191.25
$180.00