Bring a naturally elegant presentation to your clients with Bay Photo's Printed and Engraved Wood Boxes.
Customizable Wood Boxes feature your photos or artwork printed directly onto the lid, or engraved with your special message or logo. Available in Natural or White Finish and various sizes to accommodate a wide range of print types, including MetalPrints, mounted or unmounted Photographic Prints, and more. The optional false bottom is perfect for adding a Bamboo Display Stand or storing personal keepsakes.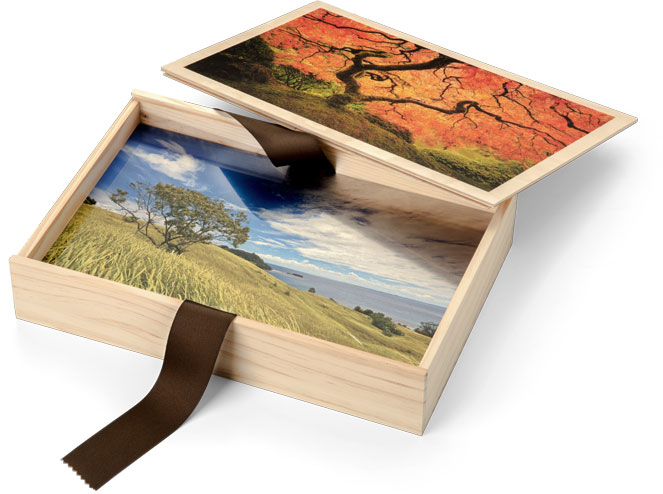 Printed Lid
Customize your Wood Box with a printed image directly onto the solid wood cover with your choice of Natural or White Finish.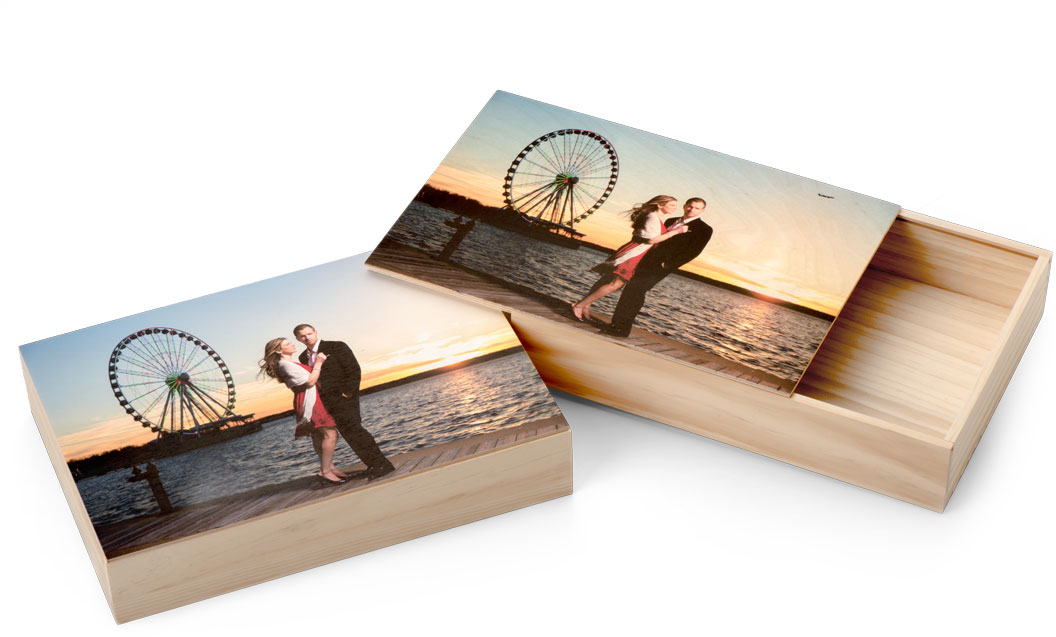 FINISH OPTIONS
Your choice of a Natural or White Finish.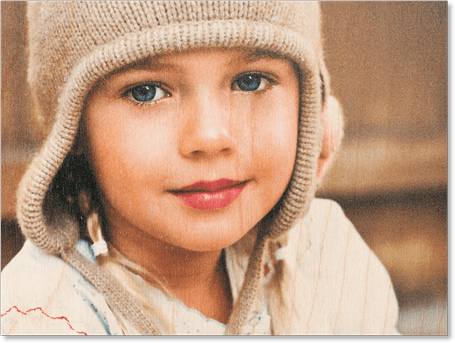 Natural Finish
The grain and other natural characteristics of the wood shows through the light and white areas of the image for a natural warm tone and vintage feel.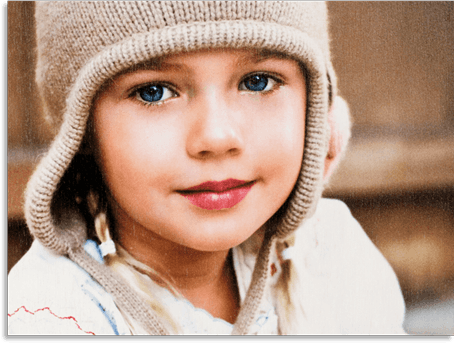 White Finish
A white ink underlay is printed beneath the image area to make the true colors of your image pop, while still allowing the beautiful wood texture to show on the print surface.
Optional Borders
Go Full Bleed, or opt for a 1" or ½" Border to frame your image.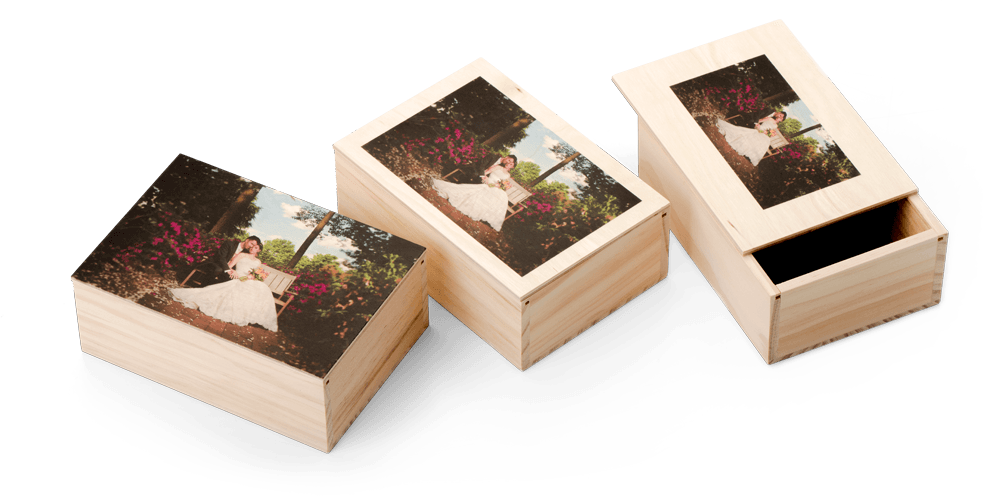 Engraved Lid
Add a personal touch with Engraved Text available in 25 different fonts, or an Engraved Image, with the logo or artwork of your choice. High contrast images produce the best results (the darker the shade, the deeper the engraving).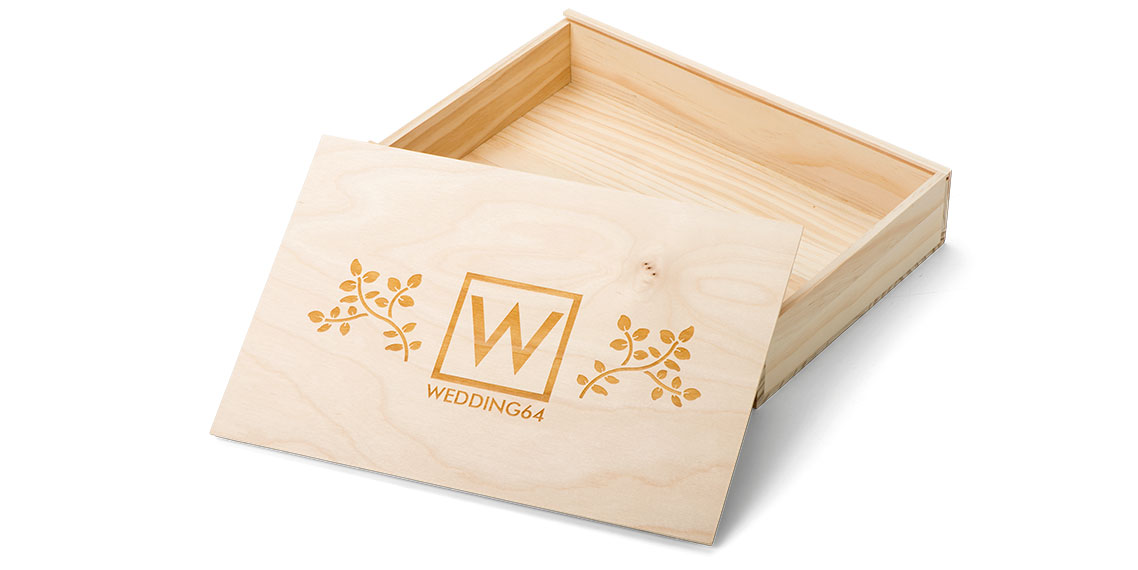 False Bottom
Opt for a False Bottom to conceal hidden treasures and valuable keepsakes. The removable insert is set ½" from the bottom of the box, making this a perfect compartment to store Bamboo Display Stands and USB Drives. Keep in mind, the addition of a False Bottom will change the depth of the box.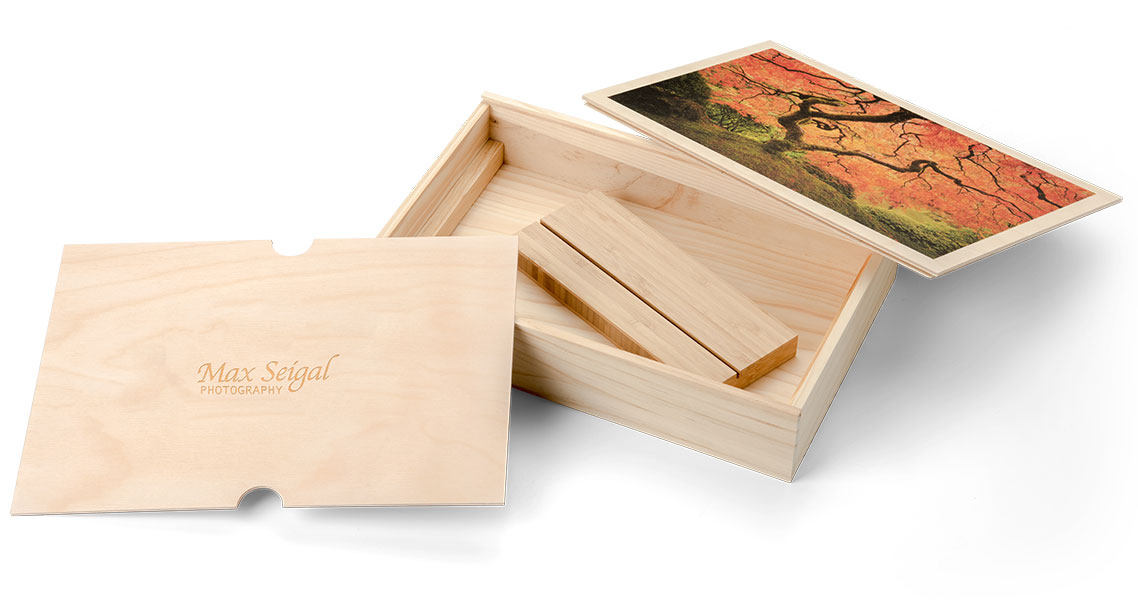 False Bottoms can be Printed with an Image in Natural or White Finish, or Engraved with your image, text, or logo.
Contents
We encourage you to fill your box with whatever you desire, but we've made it easy for you to include MetalPrints, Photographic Prints with or without Mounting and/or an optional Bamboo Stand -- they're easy to order in Bay ROES right alongside your Wood Box!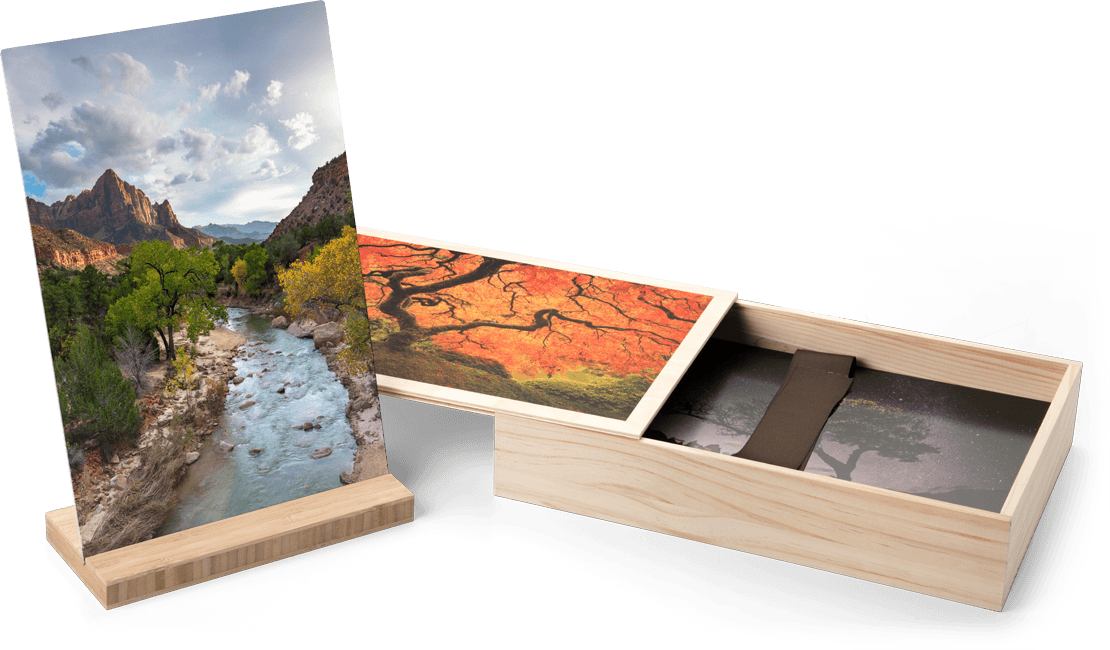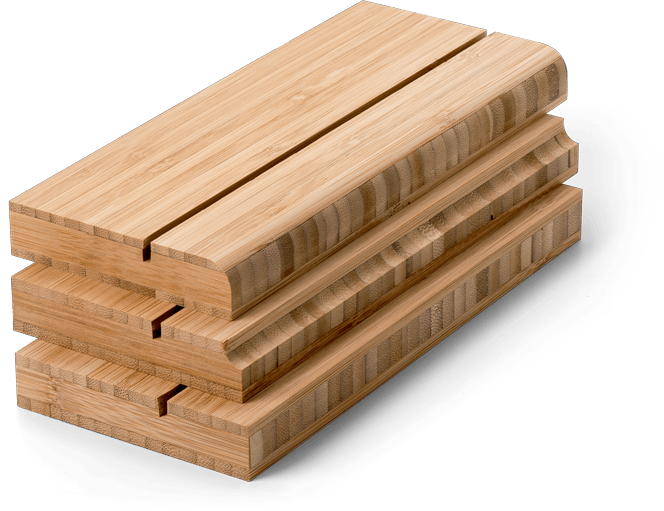 Sizes & Prices
Available in varying depths to suit a wide range of print quantities. Prints are sold separately.
Wood Print Boxes
Size
Depth
Printed Lid
Engraved Lid
2x3/Wallet
7/8"
$23.60
$29.65
4x6
2"
$36.30
$42.35
4x6
4½"
$42.35
$48.40
5x7
2"
$42.35
$48.40
5x7
4½"
$48.40
$54.45
8x12
2"
$57.50
$63.55
8x12
4½"
$63.55
$69.60
Wood Box Add-Ons
Size/Description
Price*
False Bottom
Printed False Bottom
$10.00
Engraved False Bottom
$10.00
False Bottom with no Printing or Engraving
$3.50
Bamboo Stands
5" Bamboo Stand
$6.95
8" Bamboo Stand

$10.10
*Add-On prices are in addition to Wood Box price.
Maximum Prints Per Box
Box Size
7/8" Deep Wood Box
(2x3 Wallet)
2" Deep Wood Box
(4x6, 8x12)
4½" Deep Wood Box
(4x6, 5x7, 8x12)
Photo Prints
58
200
400
2mm Styrene Mounted Prints
n/a
20
45
MetalPrints
n/a
25
80
w/ False Bottom
7/8" Deep Wood Box
(2x3 Wallet)
2" Deep Wood Box
(4x6, 8x12)
4½" Deep Wood Box
(4x6, 5x7, 8x12)
Photo Prints
n/a
100
325
2mm Styrene Mounted Prints
n/a
10
35
MetalPrints
n/a
15
65
Ordering
All of our ordering tools feature free templates and drag-and-drop ease for Windows and Mac users.

Online Ordering
Quick & easy ordering from your web browser

Desktop Ordering
Full of powerful features + quick volume ordering for Power Users
Templates contain guides to help you successfully create your own designs. Learn more...